THE RAKEHELLS OF ROCHESTER
HISTORICAL REGENCY ROMANCE
The Rayborne brothers are notorious throughout London for two things: their astounding good looks and their wild sexual ways. But when they receive an ultimatum to wed or risk losing their inheritance, their search for brides takes them on a journey of carnal pleasure like none they've experienced before. . .
Please note: The Rakehells of Rochester novels are sensual stories intended for readers over 18 years and older. 
SINJIN: The Rakehells of Rochester, #1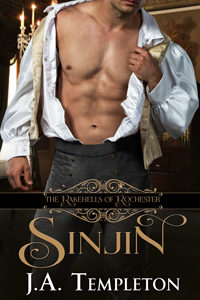 The oldest of the Rayborne brothers, Sinjin's insatiable appetite for sex has earned him the nickname "Sin." But his frequent visits to London's most infamous pleasure houses must now come to an end. For a rogue who's accustomed to indulging his every desire, one woman can never be enough. . .until Sinjin locks eyes with Katelyn Davenport, and knows she is the one woman he can't get enough of. . .
Betrothed to a much older man in payment for her late father's gambling debts, Katelyn dreads her wedding day–and her wedding night even more. When she meets Sinjin at a soirée intended to introduce him to the eligible young ladies of the ton, she envies the lucky woman who will ultimately become his bride. But when Sinjin seduces Katelyn, giving her just a taste of his legendary sensual skills, she can only imagine herself in his bed every night. . .
BUYS LINKS: AMAZON ~BARNES & NOBLE ~ iBOOKS ~ KOBO
~
~VICTOR, The Rakehells of Rochester, #2: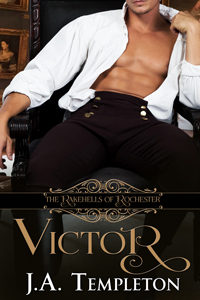 Lily Winthrop's marriage to her recently deceased husband was a loveless one. She wishes to never wed again. But when she meets the devilishly charming Victor Rayborne, he stirs a scorching hunger deep within her. She yearns to be taken by him, to feel the heat of his body entwined with hers.
The fact that Lily is older than him does not deter Victor from seeking out her lovely company. Instead, he finds the alluring woman a welcome breath of fresh air amid the insufferably dull prospects paraded before him in the ton. And when he kisses Lily, an overwhelming lust is ignited, one that begs to consume them beyond all control.
BUY LINKS: AMAZON ~BARNES & NOBLE ~ iBOOKS ~ KOBO
~
RORY, The Rakehells of Rochester, #3: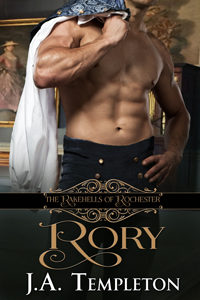 With a penchant for seducing married women, Rory Rayborne is injured once again in a duel. When he awakens, he's delighted to discovery Shannon O'Connor, a stunning maid, caring for him. Aroused and intrigued by the mysterious woman, Rory is determined to find out her secrets. But first, he plans to thoroughly seduce her with the most scorching, irresistible passion.
Shannon O'Connor is on the run after her parents perish in a  fire meant to wipe out her entire family. The only way Shannon can survive is to work as a servant in the home of wealthy English aristocrats. When her employer's brother, a notorious rakehell is brought to the home with a bullet wound, it is Shannon's responsibility to care for him. Just as she becomes comfortable in her position as nursemaid to the charming rogue, the person who killed her parents arrives ready to finish the job he started.
BUY LINKS: AMAZON ~ BARNES & NOBLE ~ iBOOKS ~ KOBO