THE UNINVITED, book one in the MacKinnon Curse series spin-off.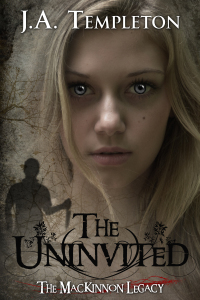 For readers who loved the international best-selling YA paranormal romance series, The MacKinnon Curse, here is a new spin-off series!
Madison Sinclair has a secret. She can see, hear and feel the dead.
At seventeen, Madison travels to Edinburgh to study and discovers that university is not the only adventure to be found there. The historic Scots city is a hotbed of paranormal activity and Madison's talents and empathy are tested when she meets the spirit of a missing teen, Jaime.
Madison befriends Shane, a fellow student and very human charmer from her home town, who also knows a thing or two about ghosts and their ways.
Madison's spirit friend, Jaime, has a flesh-and-blood brother. Haven is a sexy, tattooed bad boy with a dangerous reputation, but is drawn to Madison because of the enticing truth she could give him about his little sister.
Shane and Haven help Madison use her gifts to uncover the secrets surrounding Jaime's disappearance, which puts Madison in danger from more than wayward spirits. The psychopath that killed Jaime now has Madison in his cross-hairs, and he has no intention of letting her reveal the truth.
THE UNINVITED is book one in The MacKinnon Legacy series and is intended for readers over 17+ due to language, sexual situations, and violence.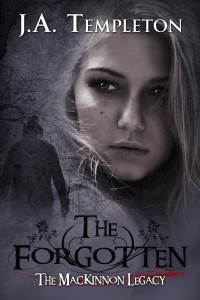 Seventeen-year-old psychic Madison Seaton's life changed the second she arrived at the University of Edinburgh. Before she can enjoy her freshman year, she's targeted by the spirit of Jaime, a girl who had gone missing months before. Jaime needed Madison's help to find her killer, but now that her body's been found, she's MIA. The same can't be said for the malevolent spirits who want Madison to steer clear of the killer and his victims.
Despite the danger she is in, Jaime's brother, Haven continues to push Madison to find the killer. He won't stop until he gets justice for his sister.
Madison's hometown crush, Shane insists she forget about Jaime and the killer and get on with her life, but that's hard to do when no one will leave her alone.
Torn between the two handsome men and her conscience that is telling her to find the killer, Madison has to make a decision—ignore the psychic visions and clues or keep digging for answers and become the killer's next victim.
THE FORGOTTEN is book two in The MacKinnon Legacy series and is intended for readers over 17+ due to language, sexual situations, and violence.