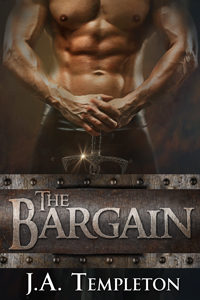 The MEDIEVAL WARRIORS series is the story of twins Adelstan and Aleysia Cawdor, Saxon royalty whose lives are forever changed during and after the Norman Conquest of England.
THE BARGAIN
Saxon beauty Aleysia Cawdor is willing to do anything to protect her dear twin brother during a conquest that could strip her of her everything. Her last resort is to enter into a sensual bargain with her worst enemy, and submit to his brutish ways.
Love-starved Norman knight Renaud de Wulf is eager to again feel the touch of flesh. He's going to take what's coming to him-the vulnerable woman who's been waiting to fulfill her obligation in the most intimate way imaginable. Body and soul. Never would de Wulf guess the true motives for Aleysia's submission-or where their heated nights would take them.
AMAZON     BARNES & NOBLE     iBOOKS         KOBO
THE CONQUEST
Rhiannon McKay, daughter of the wealthy laird of Clan MacKay, always knew she would one day be married to someone of her father's choosing. However, when he offers her hand and dowry to the older Norman baron Lord Malgor in exchange for the Lord's services to the king, it is nothing like she had imagined. Now she must spend her life with a man who could never satisfy the needs of someone so ripe and willing.
When handsome Adelstan Cawdor is hired to escort Rhiannon to her betrothed, one look at her and he is smitten. He despises having to deliver this beauty to a rival. What's more, Rhiannon doesn't want to go. She yearns to be rescued-and taken by a man like Adelstan, regardless of betraying a formidable foe like the baron. But when Rhiannon's life is threatened, Adelstan's prepared to do anything to win his lovely prize, and save her from the terrible consequences of another man's vengeance.
AMAZON     BARNES & NOBLE     iBOOKS     KOBO
THE BARGAIN and THE CONQUEST are ADULT ROMANCE recommended for readers 18+.