I had the pleasure of co-writing two novels with my dear friend Tracy Cooper-Posey. 
FORBIDDEN, Scandalous Sirens #1
Vaughn wants revenge. Elisa wants her son back. Neither expected to want each other.…
Elisa's determined to have her son back at any cost, even if it means marry a vicious stoat of a man like Rufus Wardell, but her plans and her life are turned upside down by the sudden reappearance of Rufus' grown and estranged son, Vaughn.
Lured by the contrast of Elisa's sweet beauty with the wicked rumors of her wanton past, Vaughn embarks on a seduction as scorching as it is daring. What he finds is not at all what he sought: Elisa is an innocent, but with a sensuality so raw he cannot resist her…
…even though their passion is forbidden.
WARNING: This book contains frequent sex scenes and sexual language and is recommended for mature readers (18+ years of age).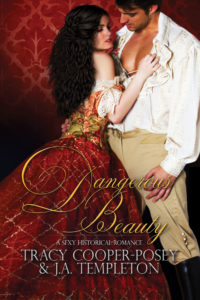 DANGEROUS BEAUTY, Scandalous Sirens, #2
In one night, their lives will change forever.
During the night of the annual, prestigious Sweet Pea Ball, two lives are about to be changed completely. Natasha is one of the most beautiful women in London. Thanks to Vaughn Wardell, the man she once thought she loved, she has learned not to suffer fools and finds most men arrogant beyond tolerance. Her mother, however, will have her married before the end of this, her third season, no matter what it takes and Natasha will fight her every step of the way.
Seth Harrow is an uncouth Irish sea captain fresh from the colonies of Australia. He's dressed as a lord and carries a secret that will tear London society apart. He's in London for one small task before heading to Ireland. He has no time for giddy debutantes and the hypocrites of society, but must deal with them both to achieve his goal.
In one watershed night, Seth and Natasha will face hatred, bigotry and soul-searing passion. The outcome will plunge them into a maelstrom of love, life … and death.
WARNING: This book contains frequent sex scenes and sexual language.
Dangerous Beauty is part of the Scandalous Siren Series
Book 1: Forbidden
Book 2: Dangerous Beauty
You will fall in love with Natasha and Seth. If you enjoy a well written historical romance, then I recommend you pick up Dangerous Beauty, you won't be disappointed! Cupid's Library Reviews
The love story of Natasha and Seth is beautifully written. I could not put this book down. Coffee Time Romance
Dangerous Beauty is fantastic–you will struggle to put it down. It is truly historical romance at its finest! ECataRomance Reviews
Dangerous Beauty is a dynamic continuation of Forbidden that you will not want to miss. Romance Junkies
I absolutely loved this book. Get it, you'll love it. Fallen Angels Reviews