If you hold his sw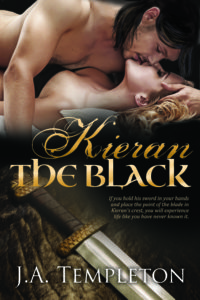 ord in your hands and place the point of the blade in Kieran's crest, you will experience life like you have never known it…
When the frizzy-headed crone took thirty-nine-year-old Lizzie Johnston's hands and wrapped them around the sword, she felt a little weird. That's nothing compared to what she feels when she wakes up in the body of eighteen-year-old Saxon, Lady Elizabeth of Aedelmaer in the year 1067, wedded to the infamous Norman knight, Kieran the Black.
Kieran's six and a half feet tall, black-haired, with the bluest eyes Lizzie's ever seen and built like a brick you know what. Lizzie's head over heels and determined to get tall, dark and dangerous into bed and win his heart, despite the old Elizabeth's avowed distaste for him. But first she has to save his life.
KIERAN THE BLACK is an ADULT ROMANCE recommended for readers 18+.