Welcome to the website of fiction author J.A. Templeton! I'm so glad you dropped by. I write in multiple sub-genres of romance. Please feel free to explore and find out more information about me and my current releases.
Recent Releases!
The Rakehells of Rochester is a trilogy of R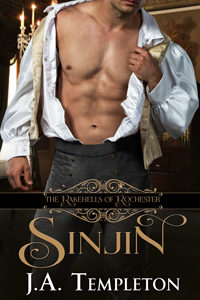 egency historical romance novels featuring three notorious brothers whose womanizing ways come to an abrupt halt when their parents give them an ultimatum to marry or lose everything.
These fast-paced, character-driven stories are steamy and intended for readers over 18 years of age.
SINJIN (Book 1), VICTOR (Book 2), RORY (Book 3) are available in digital format!